Kocsis Machine was contracted by a steel mill client to manufacture a 102-inch-long screw and nut assembly used in a vertical edger. This project incorporated many of our core capabilities including complex programming, CNC and manual turning, CNC milling, and large-scale assembly.
Initially, our manufacturing team was provided machining and assembly drawings from the mill. These drawings were passed along to our programming team to prepare for machining. The nut was turned and threaded on our Okuma LH 35-N lathe. Following turning, the 11-inch-long bronze nut was milled on our Mazak FH8800 machine in one setup. This allowed for increased time and cost savings. The other part of the assembly, the screw, was first rough turned on our Mazak Nexus and then was moved to a manual lathe for threading and finish turning. In order to finish turn such a long part, we had to utilize a follow rest to ensure a good finish and proper size. Finally, assembly of the nut and screw was completed with zero issues.
In the end, this screw and nut assembly was a nice accomplishment for the Kocsis Machine team. Between our CNC programmers, machinists, manufacturing engineers, and assembly technicians, the Kocsis team worked together to deliver a quality product for our customer.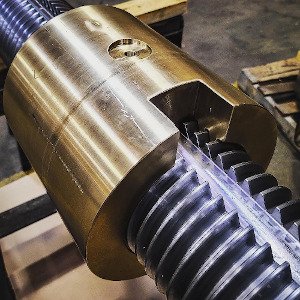 Final assembly specifications:

Screw specs: 4140 forged screw with 90" thread length

Thread specs: 7" diameter, ¾" pitch modified buttress profile, 3° pressure angle and 30° relief angle

Nut specs: C863 bronze nut, 11" OD X 11" length