The Problem
Hydrostatic grippers are used to clamp onto pipe during hydrostatic testing at a pipe mill. The grippers are positioned over the ends of the pipe, and the grippers clamp onto and seal the tubes for testing.
A pipe mill in Alabama was having issues with the grippers in their hydrostatic test cell. The original design was serviced quite often because the pipe would slip when clamped for testing. Constant service led to excess downtime, so the mill began searching for a solution to this problem.
The pipe mill decided to partner with a small local shop to design a gripper for their 5.5" diameter tubes. The local shop developed a prototype, but they did not have the machining capabilities to manufacture the parts. Consequently, the pipe mill contracted Kocsis, a longtime vendor, to manufacture the solution and engineer more grippers for various diameter pipes.
The Process
This project was completed by the teams at Kocsis Machine and Kocsis Hydraulics. The engineering team at Kocsis Hydraulics created drawings for the original 5.5" version of the grippers. Next, they re-engineered the design for other diameters. The drawings were then sent to the customer for approval. Following approval, the drawings were sent to the manufacturing team at Kocsis Machine for production.
The hydrostatic grippers were a perfect fit for Kocsis Machine's turning and milling capabilities. Measuring 36" in diameter and 24" thick, they were first turned on our Toshiba VTLs. With a swing diameter of 72" and a height under rail of 67", our VTLs handled the grippers with ease. After turning, the parts traveled across the shop to milling on our Toshiba horizontals.
The Results
Following installation, the pipe mill has been extremely pleased with the performance of these grippers. The newly designed grippers can now operate 4x longer before needing service. This has led to decreased downtime and cost savings for the mill. Not to mention, the pipe mill has ordered more units for various diameters.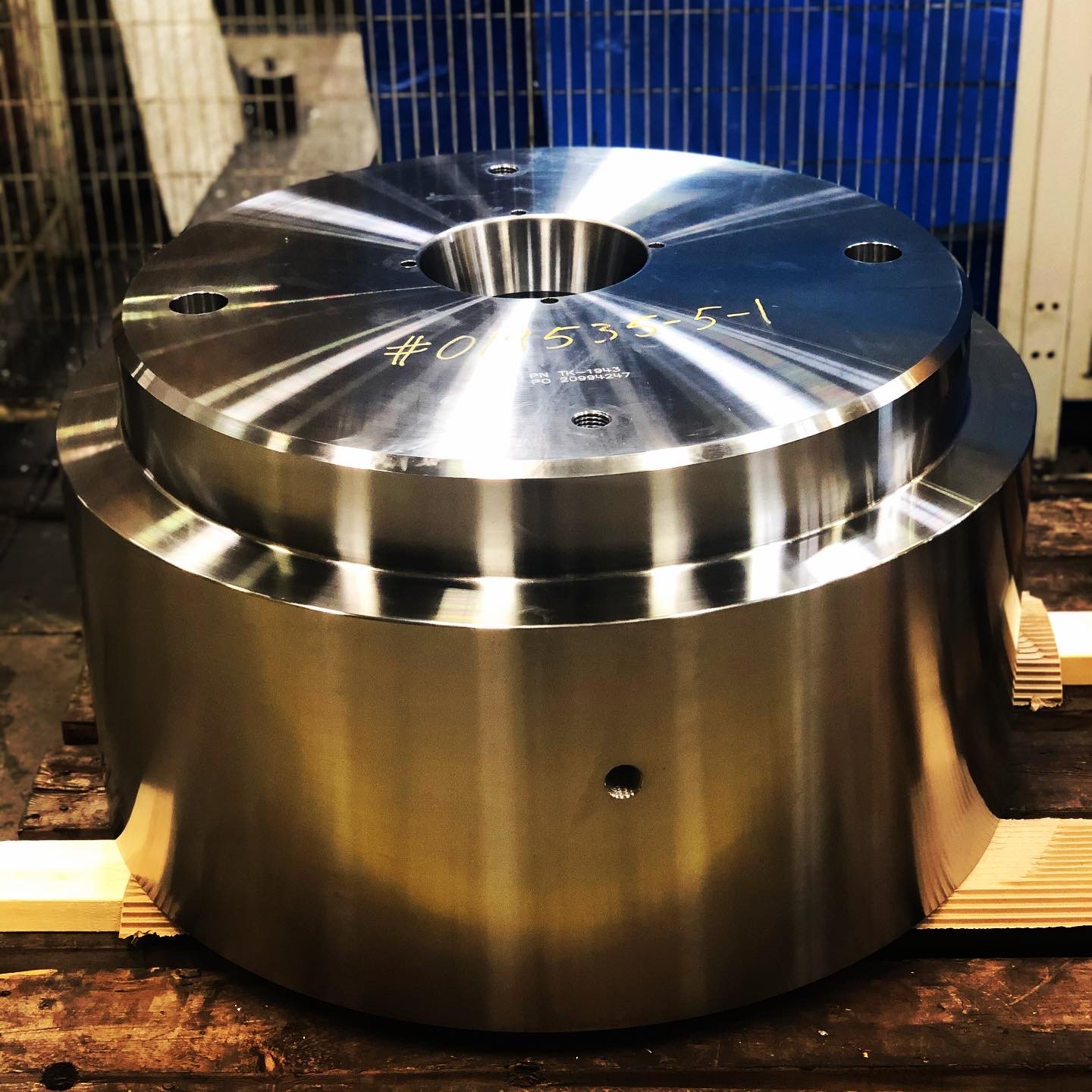 Specifications:
• 36" diameter x 24" thick
• Rated to 12,000 PSI